Looking for the best central air conditioner brands for your home? We have got you covered!
March 27, 2020 | 05:30 AM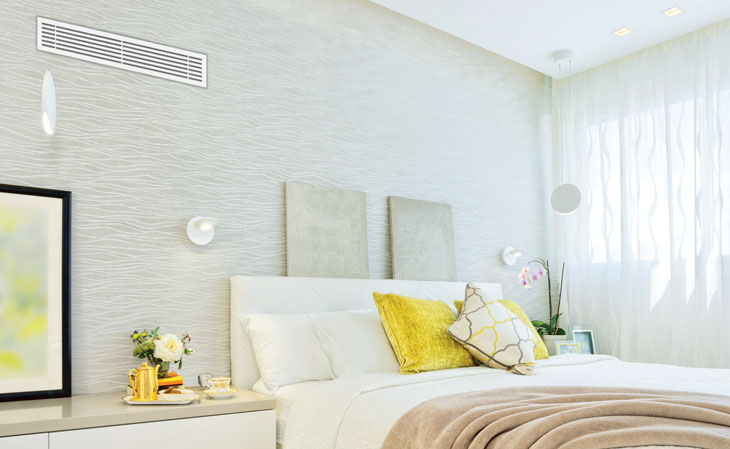 Offering targeted air conditioning for your home or office, the VRV central air conditioning systems are built with advanced technology that allows them to be highly energy efficient to provide optimal cooling for your space. Given that air conditioning systems no longer sit on the wall like an odd piece, but rather add to the rest of the paraphernalia in defining the décor of the expanse, the Daikin Variable Refrigerant Volume system is highly energy efficient and suits the consumers' design needs. Moreover, what makes these systems the best home central air conditioners is their Smart Control feature that allows you to enjoy the luxury of centralized air conditioning by controlling it from anywhere. But, that's not it! For your ease, here we have listed down all the amazing features that this Smart Control feature has got to offer!
Access within the premises: Experience the centralized control of your central air conditioning system with your smartphone. Control all the core functions in your Daikin VRV system with utmost ease, from one room to another.
Access anywhere outside: Forgot to switch off your air conditioner while away? With Daikin VRV system, you wouldn't have to worry about this and can always return to a comfortable, cool air at home—even when you are out for vacation!
Advanced Control: With VRV Smart Control, you can even control the temperature set points, fan speed, air-flow direction, and error notification with just a few taps on your phone.
Along with the promise of Daikin advantage and a smart control technology, the VRV central air conditioning system also features the automatic refrigerant charge function. With this function, the system automates the charging of the optimum refrigerant amount and closing of shut-off valves with the press of a switch post pre-charging. In other words, they circulate only the minimum amount of refrigerant needed. Also, they offer individual temperature control of the air conditioning zones. Thus, the system not only uses less energy but would also help you save money in the long run on your utility bills. What's more? Daikin's VRV central air conditioning system functions by capturing the residual heat from the air conditioning environment while cooling, and then simultaneously re-using the absorbed heat to warm up the other parts of your home or the building. Thus, it enables you to air condition the living room for the guests while heating up the other room where the kids are sleeping.
Not convinced yet? Keep reading!
The VRV HVAC system not only uses less energy but would also help you save money in the long run on your utility bills. Its automatic refrigerant charge function is in contrast to conventional chillers that transfer heat from one zone to the refrigerant via air- or water-circulation, making the whole process very complex and energy consuming. Thus, With VRV central air conditioner installed in your homes, you can not only contribute towards a sustainable future but also save yourself from spending a fortune paying electricity bills.
These are some of the features and specifications of the Daikin VRV systems that make it a popular choice among modern users. If you have any other question on Daikin's VRV technology, just shoot them to us and we would be happy to help.