VRV Home's fascinating features
April 19, 2022 | 07:00 AM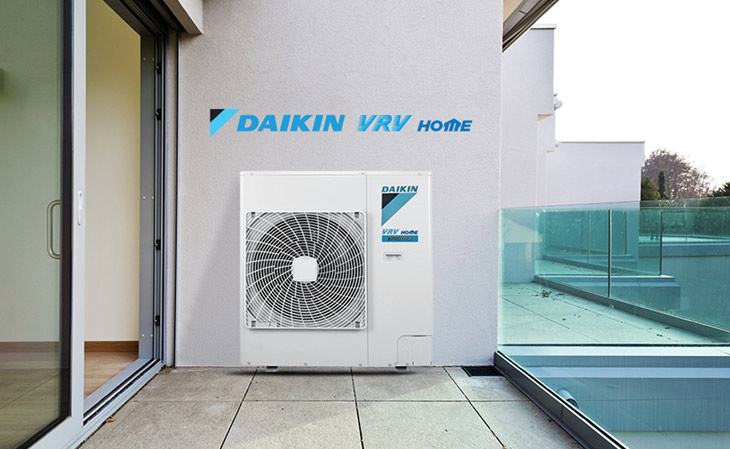 VRV technology is a central air conditioning system that changed the world of air conditioning. This energy saving central air conditioner system has many features that make it the perfect companion for your home.
Energy Efficiency
Swing Compressor: The smooth rotation of the swing compressor decreases friction and vibration, and prevents the leakage of the refrigerant gas during compression. This results in a quiet and efficient operation.
DC Fan Motor: The DC Fan Motor enables efficient operation with its fine rotation control. It also improves operational efficiency by up to 40% compared to an AC motor.
Reluctance DC Motor for Compressor: The reluctance DC Motor produces more power and save more energy.
Sine Wave: The smooth sine wave of the inverter's electric current removes pulsation and high harmonic noise, for better efficiency.
Efficient Heat Exchanger: The VRV Home has a bigger centralised outdoor unit than separate unitary products. This enables a bigger heat exchange in case only a partial number of indoor units are operational.
Design Flexibility
Piping Length : The VRV Home provides a piping length range of 40 metres, a total piping length of 100 metres, and if the outdoor unit is installed above the indoor units, the level difference can be up to 30 metres.
Brazing Free Installation: The convenient brazing-free installation allows for a quick and safe setting up process.
Connection Ratio: The VRV Home offers a connection capacity from 50% to 140%.
Wide Operation Temperature Range: The VRV Home can operate at temperatures from as low as 0 degrees Celsius to as high as 40 degrees Celsius.
Single Phase Power Supply: Both the outdoor units as well as the indoor units run on a single-phase power supply.
Comfort
Precise Temperature Control: Our inverter technology offers precise temperature control. With reduced temperature fluctuations, you can enjoy a comfortable air conditioning experience.
Night-time Quiet Operation: One can get a good night's sleep thanks to the AC's quiet operation.
Year-Round Air Conditioning: The heat pump works through the year for both cooling and heating purposes.
Contemporary
Centralised Air Conditioning: Thanks to the VRV Home's flexible system, only one outdoor unit is connected to multiple indoor units.
Hide and Sleek Design: The units are slim and compact enough to fit into any false ceiling, giving you more flexibility to create your ideal home.
Space Saving: With its centralised outdoor unit, the VRV Home provides both sophistication as well as the space your home needs.